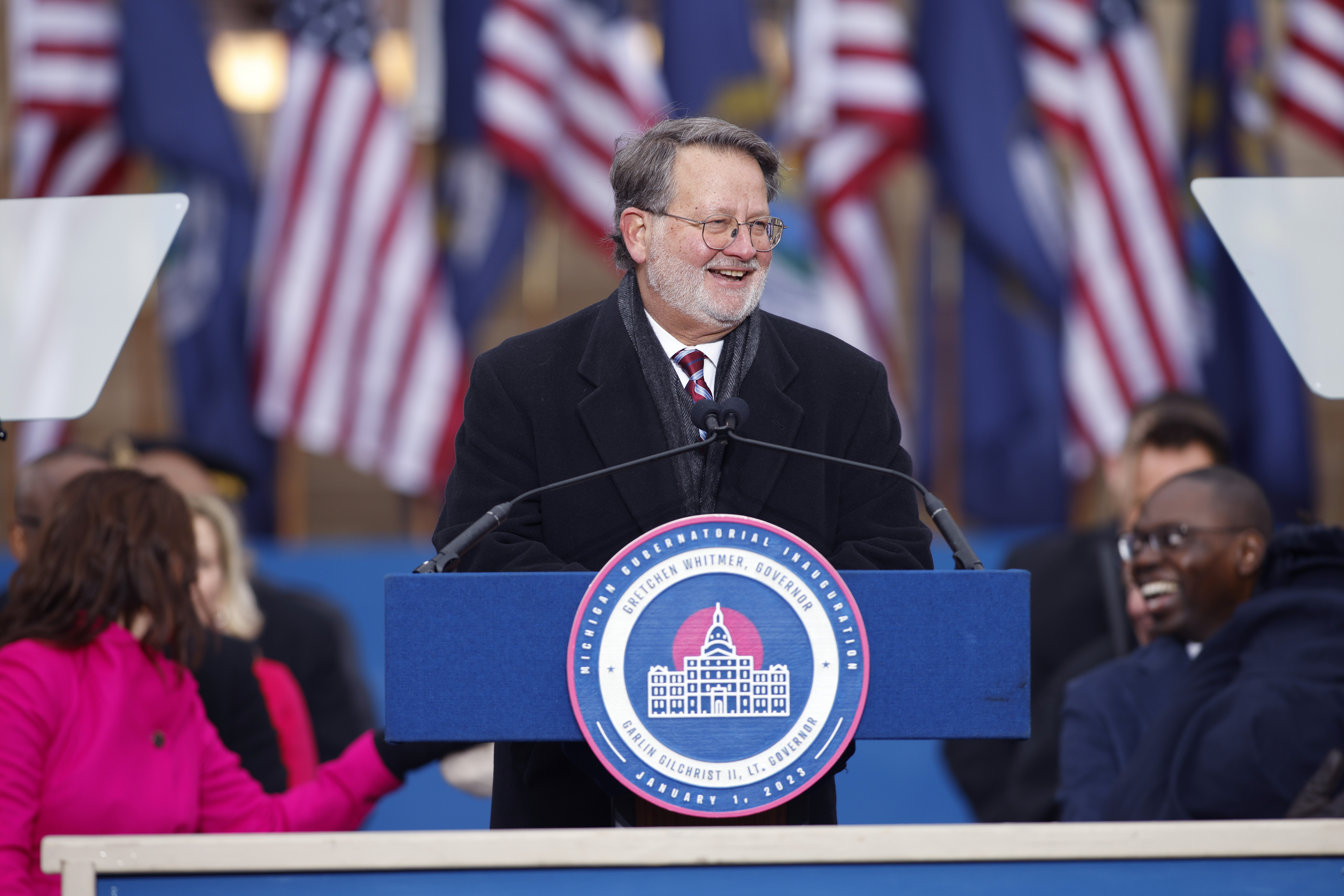 Michigan Sen. Gary Peters will once again lead his caucus' campaign arm, according to two people familiar with the matter and confirmed by the Democratic Senatorial Campaign Committee.
The second-term senator successfully defended Democrats' majority last cycle under difficult circumstances, with the party even picking up one more seat in the chamber. Still, Peters had initially turned down entreaties to do the job again, hoping to get a breather from the exhausting role.
He's the first Democrat since Chuck Schumer, now the majority leader, to run the DSCC two cycles in a row. The Michigander will also have two vice chairs assisting him: Sens. Tina Smith of Minnesota and Alex Padilla of California.
Peters' personal record includes winning close House races and a tight Senate election in 2020. Then, in the 2022 midterms, he helped Democrats buck historical trends as DSCC chair — leading the party to pick up a seat despite a Democratic president in office.
Schumer called Peters a "battle tested, proven winner whose hard work led Senate Democrats to defy the political odds and to one of our best midterm results in recent history."
"By adding Tina and Alex to our campaign leadership team, we'll further increase the DSCC's expertise and capacities. I know this is the dream team to strengthen and protect our majority," Schumer said.
The Michigan Democrat somehow faces even tougher odds in 2024. Democrats are trying to hold three red seats in Montana, Ohio and West Virginia, plus several other battleground spots in Wisconsin, Pennsylvania and Nevada. And the party has scant pick-up opportunities in GOP-held states this cycle.
Additionally, Democrats now must defend an open seat in a battleground state after Michigan Sen. Debbie Stabenow announced her retirement last week. Still, elections have trended better for Democrats in Michigan over the past couple cycles, and Peters can help referee a crowded primary in his home state.
Under Peters, the DSCC did not endorse in open primaries in 2022. California is also likely to see a competitive primary to succeed Sen. Dianne Feinstein (D-Calif.), who is expected to retire.
Peters will also have to navigate a unique situation in Arizona, where Independent Sen. Kyrsten Sinema is up for reelection. Sinema left the Democratic Party and could face a challenge from Rep. Ruben Gallego (D-Ariz.). That would put the DSCC in a tough spot, as it would have to decide whether to treat Sinema as an incumbent and support her. Peters said in December that he was "really happy to say that's the job of the next DSCC chair."
In a statement for this story, Peters said that "Senate Democrats won big in 2022 by working hard and taking nothing for granted — and that's the same approach I will bring to our campaigns in 2024. Alongside Tina and Alex, I look forward to protecting and strengthening our Democratic majority."
Peters is the first senator to chair a campaign arm for two consecutive cycles since Sen. John Cornyn (R-Texas) did in 2010 and 2012. Though Peters initially rebuffed Democrats' requests for him to stay after a difficult election cycle, adding two vice chairs will help ease Michigander's workload when it comes to recruiting and fundraising. Padilla already assisted Senate Democrats with Latino voters last cycle, while Smith is seen as an effective progressive messenger.
With the party facing an even tougher map in 2024 than in 2022, National Republican Senatorial Committee spokesperson Maggie Abboud said "congratulations to Gary Peters on securing the worst job in Washington. He has his work cut out for him!"